The historical truckload cycle gives insights into the current truckload environment and what to anticipate as we measure the demand and supply of the freight market.
The classic cycle of the U.S. Truckload Sector is a repeating pattern over time. In fact, our friends at C.H. Robinson have taken our breakdown of the Truckload Cycle and created a great graphic to outline this process.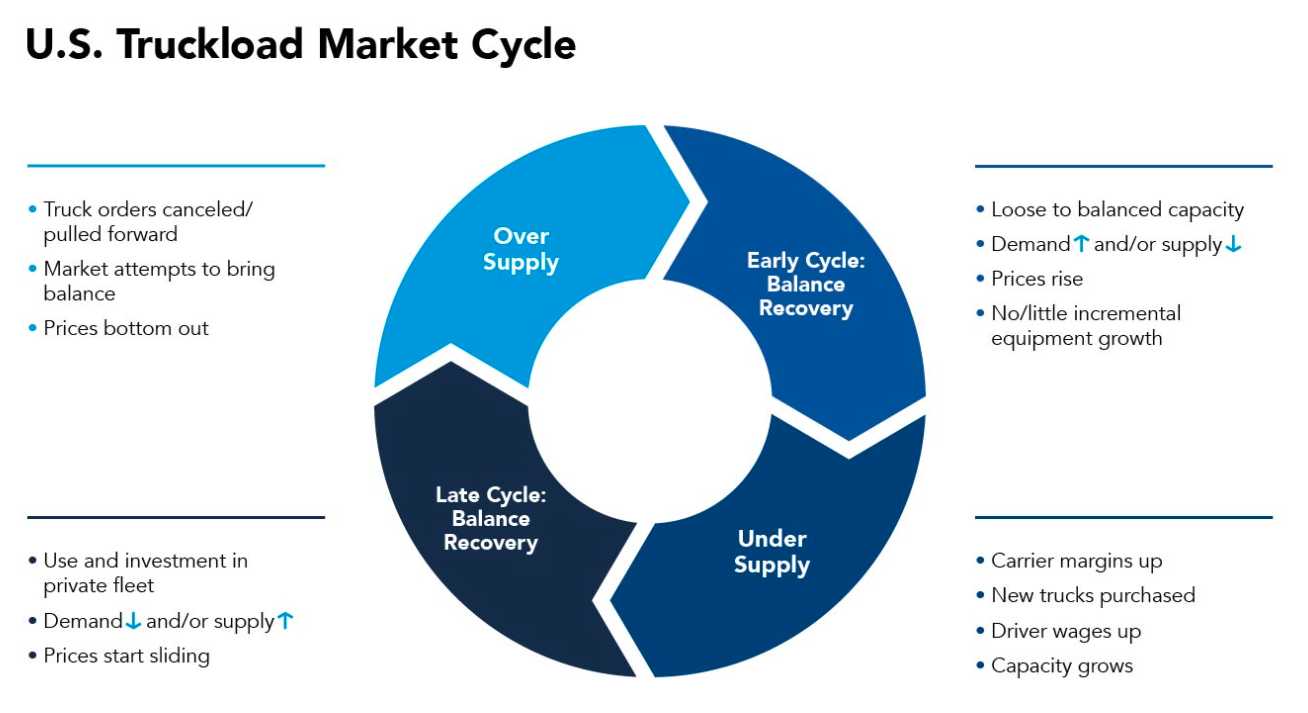 Why is understanding the Truckload Cycle important? Using this insight, along with ACT's Class 8 tractor data, you will better understand what comes next in the cycle and how to plan and prepare for the next aspect of the cycle.

Early Cycle: Balance Demand Recovery. If we start in a loose to roughly balanced supply-demand environment, the cycle begins with freight growth leading to tightening capacity and driver shortages. This swings the pendulum of power to the trucker to press rates higher, first through the spot market, then in the contract market about six months later. These periods are typically characterized by low Class 8 tractor production, rising spot load-to-truck ratios and rates, and accelerating Class 8 orders.
Mid-Cycle: For-Hire Capacity Response. Capacity shortage and higher rates aid fleet profit margins and eventually enable them to attract more drivers through higher pay. As operators improve their margins, they invariably buy new trucks and trailers, pressing up industry production rates. Because of the industry's high degree of fragmentation, similar decisions are made by thousands of fleets at similar times, leading to the strong tendency to add more capacity than needed when times are good. This part of the cycle is associated with high Class 8 tractor build rates and long order backlogs.

Mid-Late Cycle: Shipper and Private Fleet Productivity Actions. Meanwhile, the shipping community is finding new ways to reduce its recently raised shipping costs by becoming more productive and moving freight to their private fleets. At the same time, the freight cycle is also getting long in the tooth. This typically slows or reverses for-hire freight volume growth just as industry capacity growth is accelerating, creating a supply-demand imbalance that drives truckload rates down. This hurts carrier profitability and leads to lower order rates and higher-order cancellations.

Late-Cycle: Adjusting to Lower Returns. At this point, driver shortage noise fades (but never really disappears), and operators respond by reducing equipment budgets and canceling orders. This leads to lower equipment acquisition rates, which begin to bring supply and demand back into balance until freight demand starts the cycle over again.
The Pricing Pendulum.

We think an effective way of thinking about the state of supply and demand in the Truckload market is the concept of a pendulum.
During times when demand grows faster than capacity and drivers are short, the pendulum swings to the truck/capacity owner, and prices rise.
At times when supply growth outpaces demand growth, the pendulum swings to the shipper, and prices fall.
In 2019, we expected the pricing power pendulum to swing toward the shipper, after being firmly with the service providers in 2018. In the midst of supply chain challenges currently, we've seen an extended cycle favoring for-hire carriers.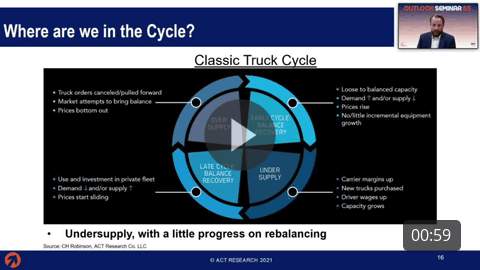 Focused on Freight? We are
Showing 1-19 of 19 results