After attending ACT Research's Market Vitals: The Current and Future Health of the Market Seminar on August 22-24, Kirk Mann from Mitsubishi HC Capital America, Inc. along with Steve Tam from ACT Research reflected on economics, the development of clean technology, the dealer market, pent-up demand + prebuy, and the used and medium-duty sectors. Scroll down to view the full conversation between Kirk and Steve.
Below are the main points they discussed and their key takeaways from the seminar.
1. Economics
David Teolis, Former Deputy Chief Economist, Michael Zimm, BMO, and Jim Meil, ACT Research took the stage to bring attendees their divergent points of view on the economy.
Steve reflected, "You can have different people looking at the same data and coming away with strong conclusions that aren't necessarily the same. This economy is crazy, right?" "It's confusing, "Kirk agreed. " About half the room raised their hands [when asked how many believed we are likely to enter into a recession]."
"We can't control the market indicators. What we can control is the next thing we do. We'll weather whatever happens, either way," Kirk continued.
2. Clean Technology Development
"It was so refreshing to see the level of transparency that [Rick Dauch, Workhorse] was bringing to the [EV market] conversation," shared Kirk.

"There's been a lot of hype over the last four or five years on electric vehicles. And that's not necessarily a bad thing. It's attracted a lot of attention, capital, and investment. Which is something we need. We need to develop this technology. There are a lot of moving pieces we don't have in place yet but that we're starting to put in place. What [Dauch's] presentation said was 'yes, but'. And that 'but' is what we're dealing with right now. We know where the challenges are, and we know what the homework is," Steve added.

In discussing the coming integration of clean energy products, Kirk iterated, "It's going to be important for lenders to get on board with that. And if they're here [at the ACT seminars], they're going to hear what the landscape is going to look like over the next five, 10 years."

"Start to formulate your plans and then adapt them as developments necessitate," Steve added.
3. Dealer Market
Laura Perrotta, ATD, Jodie Teuton, Kenworth of Louisiana, and Maria Sherwood, Sherwood Trucks, sat down to explore how the environment has changed, what dealers have done to adapt, and what the customer experience looks like in the aftermath.
"[The dealer panel] was so telling. There were different perspectives on what's happening in the market, and I would really encourage anyone who can get their hands on that session, to do it. It was fantastic," shared Kirk.

Regarding demand, Kirk highlighted, "Getting equipment is not easy, yet you see this year-over-year improvement. There must be a lot of people who want to buy trucks but can't buy them right now. That's an interesting dynamic."

"The industry's been constrained with all the supply-chain challenges we've had over the last couple years," Steve agreed. "When we think about demand for vehicles, there is this core level of demand we call replacement. Trucks wear out, so they have to be replaced, and it happens on a pretty regular cycle. Many of the fleets have been denied the opportunity to replace, at least at full levels, so with multiple years of below-replacement production and sales, we've got pent-up demand. That's exactly what the dealers are talking about."

Not all of these challenges are behind us, though we've made good progress.

"You can't just snap your fingers and fix the problem[s] overnight, it's going to take time, and it has to happen in conjunction with the business cycle of the fleets. If the fleets are seeing slowing freight growth, or even freight contraction, and rates are going down, so are revenues, so are profits. It'll all sort itself out, it's just a matter of time," said Steve.

4. Pent-Up Demand + Prebuy
"It'll be interesting to see ahead of January 2027—emissions standards are going to be more stringent—how the OEMs are going to be able to do this coming into 2024. We could have historic prebuy years in '25 and '26, and I think we probably will. But they're going to have to get their manufacturing capability, capacity up to snuff to fulfill all of the pent-up demand and prebuy activity that's inevitably going to happen," said Kirk.
"We've got a significant number of units in '26 already slated for prebuy, and that's leaking backward in 2025," Steve conferred. Per seminar conversations, he noted, "The OEMs have a more aggressive forecast for 2024 than what we've got. Part of the reason we believe that's the case is, they have human assets, labor, now, and they don't want to lose that labor. How do you do that? You keep the assembly lines running at some level. It's almost as if some of those prebuy units might be leaking into 2024."

5. Used & Medium Duty
What were the aspects that surprised Steve the most when he was getting ready for his presentation about the used and medium-duty markets?
Regarding the used truck market, Steve said, "The volume of used truck sales" is most surprising. He continued, "We do have used truck inventory and prices are coming down. It is a pretty good time to be shopping for used trucks."
On medium duty, Steve said, "The resilience of the consumer. Demand has held up better than anybody thought. There is always give and take between what is happening on the medium-duty side and the heavy-duty side. There are a lot of trade-offs".

Want to hear the full conversation from Kirk and Steve? Check it out below!

Additional Insights From Kirk & Steve
Mitsubishi HC Capital America, Inc.'s Kirk Mann and ACT Research's Steve Tam sat down to discuss the research helping original equipment manufacturers (OEMs) and other transportation organizations with their business strategy. Below are the key takeaways from their conversation.
1. For full-year economic expectations, we're looking at a pretty shallow and short recession forecast. Recession-proof strategies:
a. take advantage of new opportunities,
b. stay in the know on current economic developments as things are changing fast, and
c. keep expenses low while finding less expensive ways to conduct business.

2. "Freight is absolutely on the decline," shared Steve Tam. "We see that as a pervasive thing throughout 2023."

Kirk Mann's strategy for beating the freight slump? Pay close attention to the ACT Class 8 Tractor Dashboard. He suggested, "When it comes to what's going on in the freight market, look to see when the inflection has occurred. And when that inflection happens, know how to resource [your] business."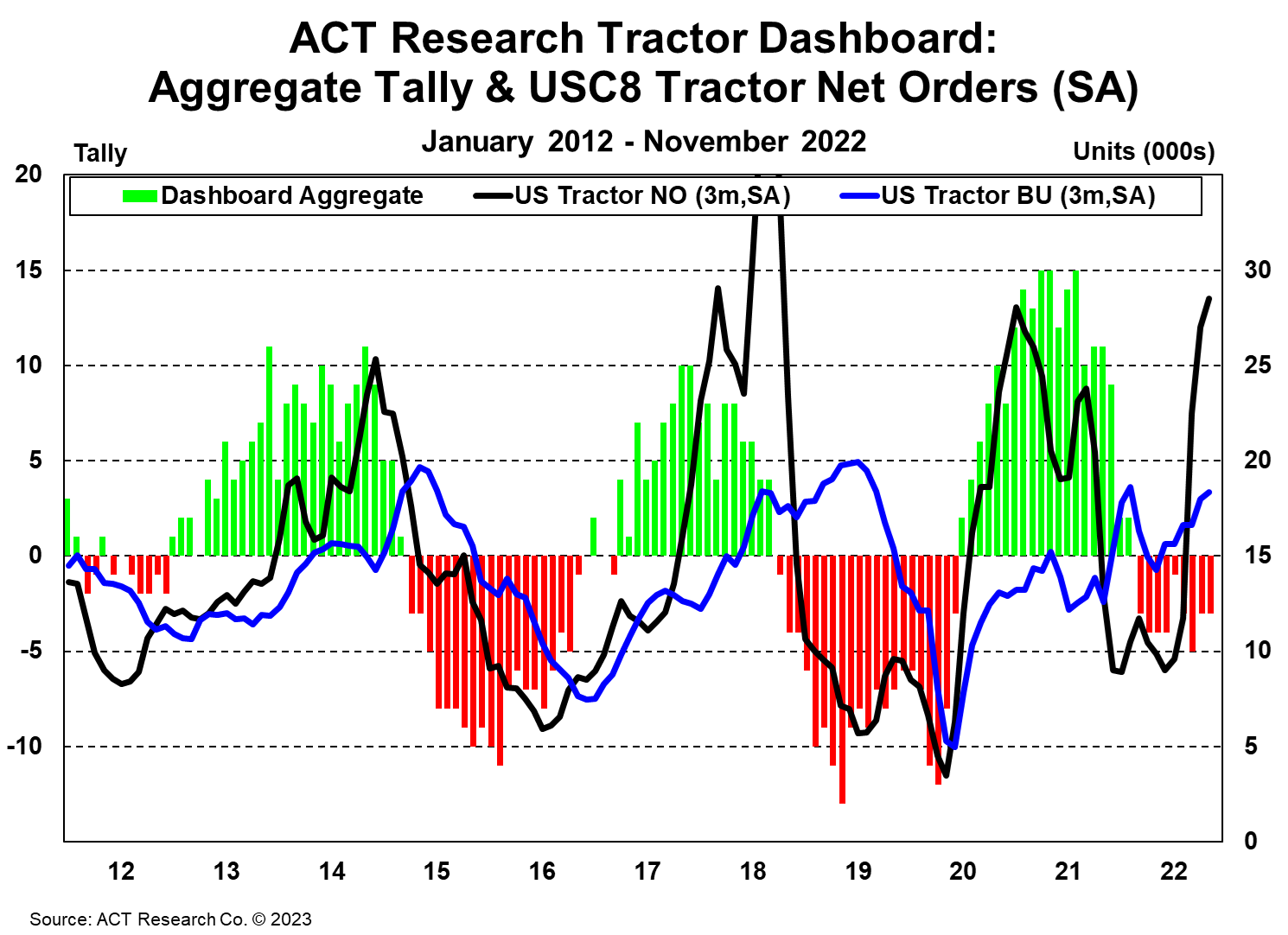 3. Given the 2023 forecasts in place right now, we'll still be dealing with a bit of a shortfall for Class 8, but we should be in a better spot as we leave 2023 and head into 2024. Could we find balance faster than the industry expects? It's not out of the question….

4. Though we've seen remarkably strong orders in the recent used truck marketplace, the market will continue to soften throughout 2023. When will we get back to pre-COVID levels? Tam answered, "In a word: never."

5. We have paired back prebuy expectations for 2023. Bottom line: we estimate roughly 10,000 units of prebuy, so not a big impact on the top line. But 2026 will be the mother-of-all prebuys ahead of 2027 mandates.
Want to hear the full conversation from Kirk and Steve? Check it out below!