ACT forecasts a slight increase in total Class 8 retail sales for 2023, compared to the 309,615 units sold in 2022.
Class 8 Truck Sales Forecast Move Higher in August

With the economy gathering momentum into the second half of 2023, and with supporting backlogs in place, the risk to build rates into year end is now essentially in the rearview.
While the 2024 forecasts are rising, the forecasts continue to anticipate slowing into next year, as pent-up demand for the Class 8 and trailer markets is largely consumed by the end of this year amid strong fleet growth in a weak 2023 freight demand environment.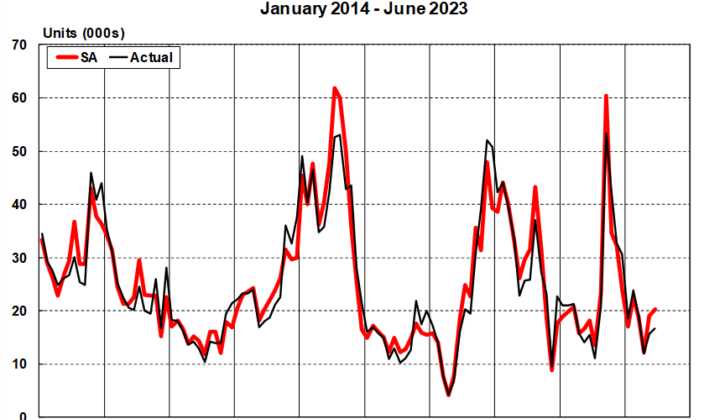 Truck Order Backlog
On continued strong build rates and seasonally weak order volumes, the Class 8 backlog fell to 163,576 units.

With over 90% of the current backlog locked into 2023 and pent-up demand falling in 2024, Class 8 backlog is likely to continue to decline.
Truck Order Cancellations
Cancellations remain nominal for Class 8 but did increase to 1,607 units cancelled on a seasonally adjusted basis in July.
Trailer Shipments
While ACT Research tracks retail sales (RS) for trucks, or tractors, we track factory shipments (FS) for trailers.
Fewer units built in July meant less equipment shipped. The nearly 25k units leaving factories in July were about 15% below June's level, but more than 10% above year-ago levels.
Factors Affecting Class 8 Truck Sales

Better economic outcomes will help to more quickly alleviate the current situation of too many trucks and too little freight, but for now, that situation remains the status quo. And, with carriers still buying trucks at elevated levels to absorb pent-up demand, we are left with a situation where too many old trucks remain on the road, even as new trucks are entering the market at well-above economically proscribed rates.

Want more data?
ACT's commercial vehicle forecast provides the best information available on how Class 8 truck sales are likely to change in the future.
Commercial Vehicle Forecast